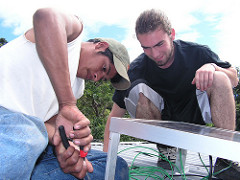 Green Empowerment, a Portland-based nonprofit, works with local partners in Nicaragua (Asociación Fénix – AsoFenix) and Guatemala (Appropriate Technology Collaborative – ATC), with the aim of strengthening communities by delivering renewable energy and safe clean water.
Nicaragua (Managua, Candelaria and Malacatoya)
AsoFénix is an NGO that performs rural sustainable development projects, including projects with renewable energy, potable water powered by solar panels, electrification, irrigation, sanitation, and improved cookstoves. The site is seeking interns in the fields of Engineering, Renewable Energy, Environmental Sciences, Sustainability, Agroforestry, Public Health and related majors.
**Intermediate Spanish competency preferred, however, a multi-week, intensive language training can be arranged for students with less Spanish.
Guatemala (San Marcos La Laguna – Lake Atitlan, Quetzaltenango)
The Appropriate Technology Collaborative (ATC) is an organization committed to sustainable development through empowerment of community-based organizations via appropriate technologies. ATC supports the start-up of social enterprises and sustainable cooperatives including indigenous solar microbusinesses and cooperatives producing organic honey, coffee and amaranth. ATC interns can specialize in a wide range of fields, such as: Engineering, Industrial Design, Architecture/ Building, Sustainable Agriculture, Sustainable Development, and Anthropology/ Sociology.
**Intermediate to advanced Spanish language required.
All Green Empowerment interns are required to work a minimum 3 months; 6 months preferred.
Internship Start Date:
Beginning of any academic term
Internship Duration: