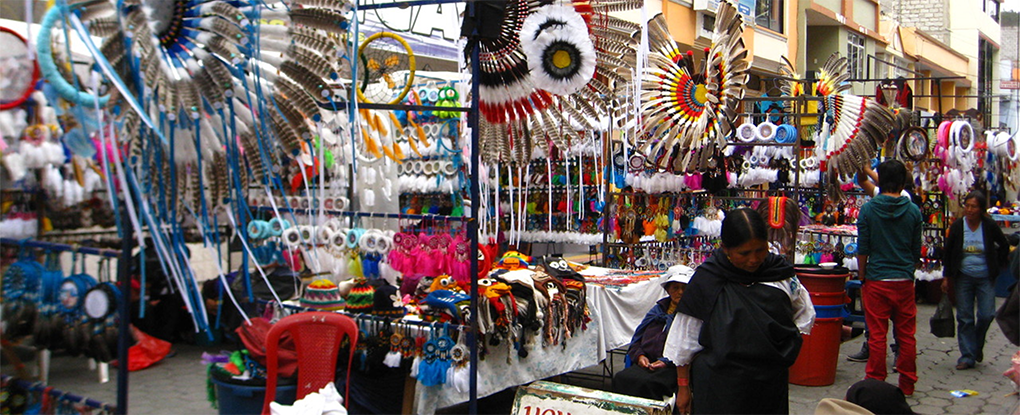 Trip to Otavalo
Yesterday my friend Claire and I went to Otavalo, which is a small town several hours away from Quito.
The population of the town is mostly indigenous, and the town is famous for it's artisanal crafts market.
The market brings tourists and backpackers from all over the world, so the indigenous craftspeople are
some of the most well off in the entire country. Many of them speak Spanish, and some English in
addition their native language Quechua.
We got to the market in the early afternoon and spent hours wandering the maze of booths. There were
many hand woven blankets, handmade clothes, and trinkets. However, me and Claire were most
interested in the jewelry and beautiful purses and little backpacks. Claire got carried away with the
leather bracelets, and I got obsessed with the bags. I even regret not having bought another one.
By the evening everyone was packing up their wares and we were starving. We had been so focused on
shopping that we actually forgot to eat anything for most of the day. Since we were so desperately
hungry to went into the first place we found, and got several huge slices of pizza. Later, when I told my
host mom that we ate pizza in Otavalo, she said this was definitely criminal because there is so much
great traditional cuisine there. I am sure that she's right, but I have to say that I prefer mediocre pizza to
raw snails any day.
During the trip back to Quito, me and Claire laughed at the weird action movie that was playing on a
screen at the front of the bus and examined our purchases. When we arrived at the Carcelén terminal it
was already night time. From there we caught a bus heading towards a more central part of the city.
However, when we asked people where to get off for the Rio Coca bus station someone gave us
incorrect directions thinking that we wanted to get off at a street with the same name that is actually
not very close to the station. So we got off the bus in a random area of Northern Quito. After walking a
few blocks we began to suspect that 2 foreigners wandering around at night carrying tons of stuff in an
unfamiliar area was not a good idea at all, and we quickly caught a taxi. Claire got dropped off first, and
we said our goodbyes because she is flying back to New York tomorrow and I won't be seeing her again
for a while.
When I got home I checked my grades, which were finally posted, and I was thrilled to see that I got A's
in all 5 of my classes. I guess all the hard work paid off.