This is Africa
Molweni!
(Xhosa: Hello; Used when greeting multiple people)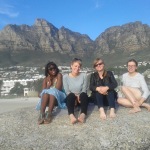 I have one week of living in South Africa under my belt, and the South Atlantic winds have not blown me away yet.
I have started my internship with the Treatment Action Campaign (TAC), a patient advocacy group for users of the public health care system in South Africa. To note, South Africa has both private and public health systems in place. My role as an intern is to assist with research that informs on-going advocacy campaigns (e.g., Fix the Patent Laws). Although I am at the beginning of my internship, I have received numerous insights about nonprofit work abroad, and I can see how my academic background in cultural anthropology, communication, and health accommodates this field.
While in Cape Town, I live in a district called Observatory, which is often shortened to "Obs" by the students and other young people who reside there. Many who live in Obs are students at the University of Cape Town, and others are living here during their summer holidays from school across Europe and the United States. It's not summer here though, it's early winter! Although it is Africa, we are still far below the equator. Being from the PNW, I am prepared to deal with the rain, however, the lack of centralized heating has been an adjustment. My internship is located in the city bowl (i.e., city center), and I take the train in every morning. An alternate way to get around Cape Town is to take a mini-bus, which is a mid-sized passenger van packed to brim with people. It's cost effective (6 Rand; 12 Rand is roughly equivalent to 1 USD), and absolutely a cultural experience to be packed in alongside locals.
Cultural Adaption
I have studied intercultural communication as part of my degree, and I thought this knowledge would cushion my arrival in a new country and culture—not so! I have not been immune to feelings of cultural shock. I expected culture shock would be isolated moments, but instead it's an on-going state where the intensity varies moment-to-moment. The first few days I moved through the city in survival mode and experienced very little through the tunnel vision. As I am acclimating, I have run the gamut of emotions—frustration, homesickness, and elation—and come out on the other side. Slowly, I have become accustomed to the morning commute, where my ears are hit by waves of honking cars and whistling mini-bus drivers, and my eyes take in the sun rising over Table Mountain and street vendors assembling their stalls. The culture shock has not disappeared, but I am learning how to appreciate the perspective it brings and the ways it allows me to experience the richness of Cape Town and its citizens.
Little has gone according to plan since arriving in South Africa, but I have picked up a saying from my flatmates and co-workers: "T.I.A." (This is Africa). Sometimes your luggage is lost, the train is an hour late, or the electricity is out for several hours…T.I.A.! It is all a part of the adventure, and an opportunity to learn from and experience an alternate way of life.
Sala kakuhle!
(Xhosa: Stay well)