The Rabbit Breeding Project
Southwest Uganda is known for its rich agricultural lands. Ninety percent of the region's population grows and harvests crops such as cassava, corn, beans, plantain and sweet potato. With this in mind, it's surprising to learn that southwest Uganda also suffers from high rates of malnutrition. Small farmers have limited purchasing power in the market and struggle season to season to generate sufficient income to support their families. Most families rely on a diet based on staple crops, resulting in child malnutrition rates over 80% due to a lack of protein in the diet.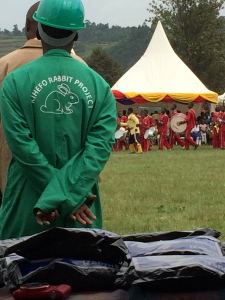 With a background in public health and nutrition, I was eager to intern in this region to learn more about what initiatives have been launched to help eliminate this paradox. Through my CFHI Uganda: Community Based Programs internship, I'm working with Kigezi Healthcare Foundation (KIHEFO) in Kabale, Uganda. Dr. Geoffrey Anguyo, a native Ugandan, created KIHEFO with the mission to help people rise up out of poverty. In 2012, KIHEFO launched an innovative agricultural outreach program called the Rabbit Breeding Project to empower families to become involved in small-scale rabbit production. Rabbits have been shown to provide a sustainable source of protein for families, as well as an opportunity to achieve income generation.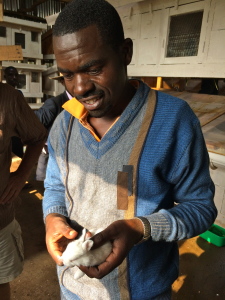 KIHEFO is building Rabbit Breeding and Training Centers in remote areas to source the rabbits given to families. Farmers are being trained to care for and breed the rabbits in these centers, thus enhancing the volume of rabbits available to be sold to local hotels and restaurants for consumption. These breeding centers will also serve as a cooperative which purchases rabbits from local families, thus enhancing the families' negotiating power in the marketplace. After the initial startup, these centers will become self-funding, income producing businesses.
I love seeing this local community build its capacity through innovation, education and training. Consuming rabbits is not part of the traditional culture, but people are slowly beginning to change their behavior and attitudes. In just three years, 2,000 households have decided to breed rabbits and the momentum is growing. In the next five years, KIHEFO hopes to see 20,000 households involved with rabbit breeding! I am grateful for the opportunity to learn from KIHEFO and I am hopeful that southwest Uganda can overcome its high rates of malnutrition.