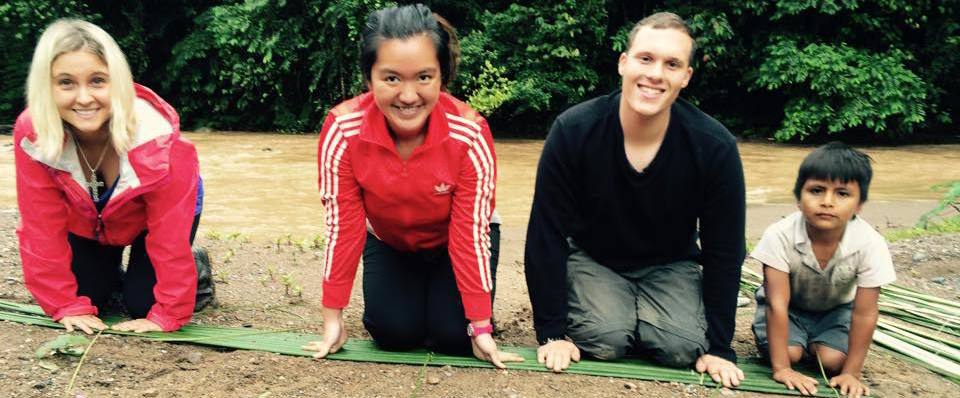 Selvas y Playas
This last week was a busy one! Me and two other students in the program set off on an 8 hour hike Monday through the Amazon Jungle. It was possibly the most difficult backpacking route I have taken. A foot deep layer of mud constituted our trail for a majority of the trek, we got stuck in the mud and our boots pulled off, we walked over steep hills and through rivers, and even got our path blocked by a poisonous snake that can jump a meter. We hiked all this way because we wanted to stay with a Shuar family and learn about their lifestyle and culture. It is humbling to have learned that the same trail we hiked in 8 hours, a Shuar family will hike in 3-4 hours, carrying a box of chickens, and children.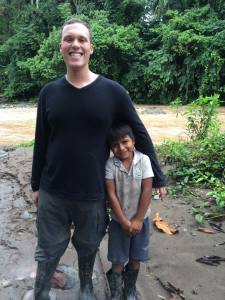 When we arrived we were greeted by a Shuar man named Gustavo and his family.  Gustavo has a wife and 8 children. Once his children grow up, they get married and make a home next to the original so the children and their families all live together. Needless to say, we were surrounded by adorable children.
They let us stay in a beautifully constructed Shuar hut and provided our meals, which consisted almost entirely of bananas. I am no connoisseur, but there is a surprising amount of things you can do with bananas; mashed bananas, fried bananas, baked banana, banana juice, banana tamales. We also got to watch a Shuar welcome ceremony which included traditional dress, dance, and song, as well as take part in it. The first day we spent trekking through the jungle to a sacred waterfall. The Shuar have an interesting ceremony they use when they want to know what the future hold. The person must fast for about 4 days then journey into the jungle to the waterfall. At the waterfall he/she must drink a prepared concoction of herbs and jungle plants that act as a hallucinogen. They sit at the waterfall and say that the user can see visions of themselves in the future or potential future husbands or wives and children. This is in fact what Gustavo has done before and found out who he was to marry.
In fact, the Shuar people have a very rich history with the use of jungle plants for many purposes. He knew what plants were best for a given task, building their houses, constructing ramp devices for fishing in a river, repelling insects, as well as medicines for various ailments such as headache, stomach problems, snakebite, cuts, and even traumatic machete wounds. I was skeptical at first, but I realized that many of the first medicines discovered come from plants and are still used today like aloe. In fact, because plants in general can't move (there are a few that can, including the walking palm, albeit not very fast) they need to resort to alternative methods to defend themselves from pests, disease, and consumers. Many plants develop chemicals that protect them and can have medically relevent uses. Many plants and their products have yet to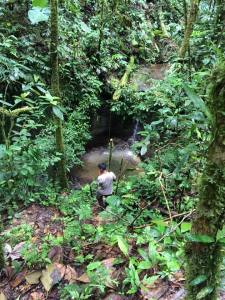 be studied and identified, so we are missing out on a wide range of potential drugs for modern-day diseases. Many trained western physicians will ignore or chastise a patients view on medicine. Sometimes, issues like this can drive a wedge between western medicine and traditional cultural medicines, creating a barricade in access to medical care because the patient does not feel respected or confident in the physician's care. This results in no medical care, which can have dire consequences. Western medicine is amazing in all that it can offer, but it is also important to understand that it is not the only viewpoint in medicine.
We said goodbye to Gustavo and his family on Thursday and headed back to Puyo exceptionally dirty and covered in mud from the hike. One of my friends even got denied a ride on the bus because she was too dirty and had to get a ride back with our orthodontist friend from Pitirishca. On Friday we left for Guayaquil, the largest city in Ecuador. It is a port city and is very modern. The bus terminal/mall we arrived in looked similar to an airport terminal and a large highway runs through the city. On Saturday we vacationed on the coast at tranquil Salinas beach then hopped over to party town Montañita for the night. At Salinas we visited the seal viewpoint as well as the Chocolatera, the furthest outreaching land mass into the Pacific from Ecuador.
We were hauled around in a family bus full of wiener dogs headed to the coast for a family vacation. We just happened to be in the right place at the right time for this extremely kind family to take us along and give us a little tour of Salinas.
Montañita is a very interesting place. You will see young 20-somethings from all over the world looking for somewhere to party, and sun-wrinkled 50-somethings who never left. It is a beautiful small beach town with a multitude of bars, clubs, and hostels. We stayed at Tiki Limbo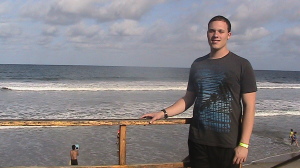 hostel, with private rooms that would put most hotels to shame. We went out on the town to explore. There were many clubs and bars blasting music, but we critically misjudged when the actual partying would begin, which in Montañita, lasted until 4 am.
During the day it is a much calmer land. We visited the beach, shopped, and took surfing lessons. It was the first time I surfed. I am not very experienced in board sports, but I had a lot of fun (while also getting adequately sunburned). I was able to get up on my board on some bunny waves and had a blast. We had dinner with our surf teacher, Diego and headed back to Guayaquil on Sunday to start the next week of the internship.