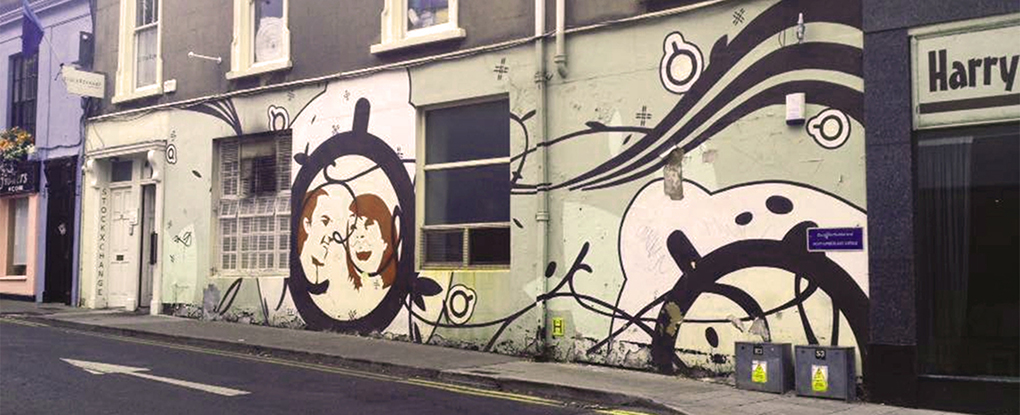 First Week in Ireland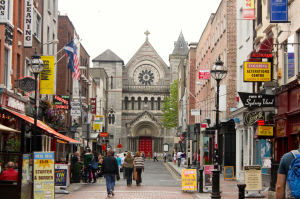 My first day to finally explore with my first week of work complete!  It was fairly slow which is to be expected– it consisted mostly of finding images for people and learning to navigate the way to organize files on the computer.  The good thing I took away from this, I must say, is that by looking through thousands of photos I really started to recognize landmarks and where they were from.
Today I took the Dart train into Dublin and had such a great time.  I stayed on the south side and walked around for a total of six hours!  First I went to Trinity College and saw the Book of Kells in the Old Library.  It was so cool to see the old manuscripts and books on display.  I was able to take some of the things I had learned in Art History and see it in real life.  It really was eye-opening to see how much effort went into making books like that back then.  They even had videos of how the Book of Kells were constructed, which were really eye-opening!
From there I walked down Grafton Street which was very lively.  There were a lot of street performers and musicians hanging out there.  Apparently there was a Pride Parade going on as well, so it was very busy!  I also noticed how much the architecture varied on this street.
I walked down to St. Stephen's Green which was a great park.  I found it extremely calming to walk through the park.  There were lots of people laying in the grass enjoying the sunshine.  Along the side of St. Stephen's Green there was a lot of art on display from local people. I walked all the way down and saw so many different styles!  It was like a free gallery– and free is always good.
After that I walked back up Grafton Street and resisted the urge to go into the shopping center (Mom and Dad would be so proud).  I found that walking back up the opposite direction was just as unique as the walk down. Because it was so busy, I felt like a fish going up stream!
I then decided to go see Dublin Castle.  I walked around but didn't go on a tour– they're quite expensive.  I actually recognized the castle from far away because of the pictures I had seen at work.  I walked into the courtyard area and felt like I had been transported back in time.  All of the sudden I could imagine soldiers marching in and out with bayonets in their hands.  It was such an odd feeling to know that this place, the place I am standing in, has seen so much history. I wondered what it must have been like.
Then I walked towards St. Patrick Cathedral.  I actually saw Christ Church on the way– both of which are lovely.  I sat in the park just outside St. Patrick Cathedral for a while.  The church was breath-taking and I thought it would be a good idea to just sit and soak it in. There were children running around everywhere.  The fountains were still turned off from winter so they were running in them.  I unfortunately didn't know you could go into the cathedral (crazy– I know), so I'm planning to go back again sometime.  It's really not that far from the city center, although it looks very far on the map!
I decided for my walk back to the Dart station to walk along the Liffy River that runs through Dublin. It was here that I walked past the Temple Bar area (although I didn't physically see it).  It was so crowded with young people from the Pride Parade.  I was actually very surprised at how many kids there were at the bars.  When I say kids, they had to be less than 16 years old!  I even saw people just walking around with beers and bottles of vodka.  I later asked my host mom if having open containers was legal in Ireland– which definitely is not legal. I past the Ha'Penny Bridge, which I also recognized from all the pictures at work.  I thought about crossing over it, but I decided to leave North Dublin for another day.  I then made my way back through Trinity College to the Dart station.
While waiting for the train I decided to get off at Dun Laoghaire instead of Dalkey.  I didn't go into the main part of town, I'll save that for another day.  But I did go to Teddy's Ice cream which is pretty well known.  It's kind of like the Salt and Straw of Dublin.  The ice cream reminded me a lot of the ice cream I got in England seven years ago.  I actually learned that they call it the same thing– a 99.  Then I walked all the way from Dun Laoghaire to Dalkey, which took about an hour.  It started to rain pretty hard right as I got home so I timed it pretty well!  Now I'll just relax and enjoy my evening at home, book in hand.
---
To follow Mary's progress in Ireland, check out her blog: www.marysirelandadventures.wordpress.com