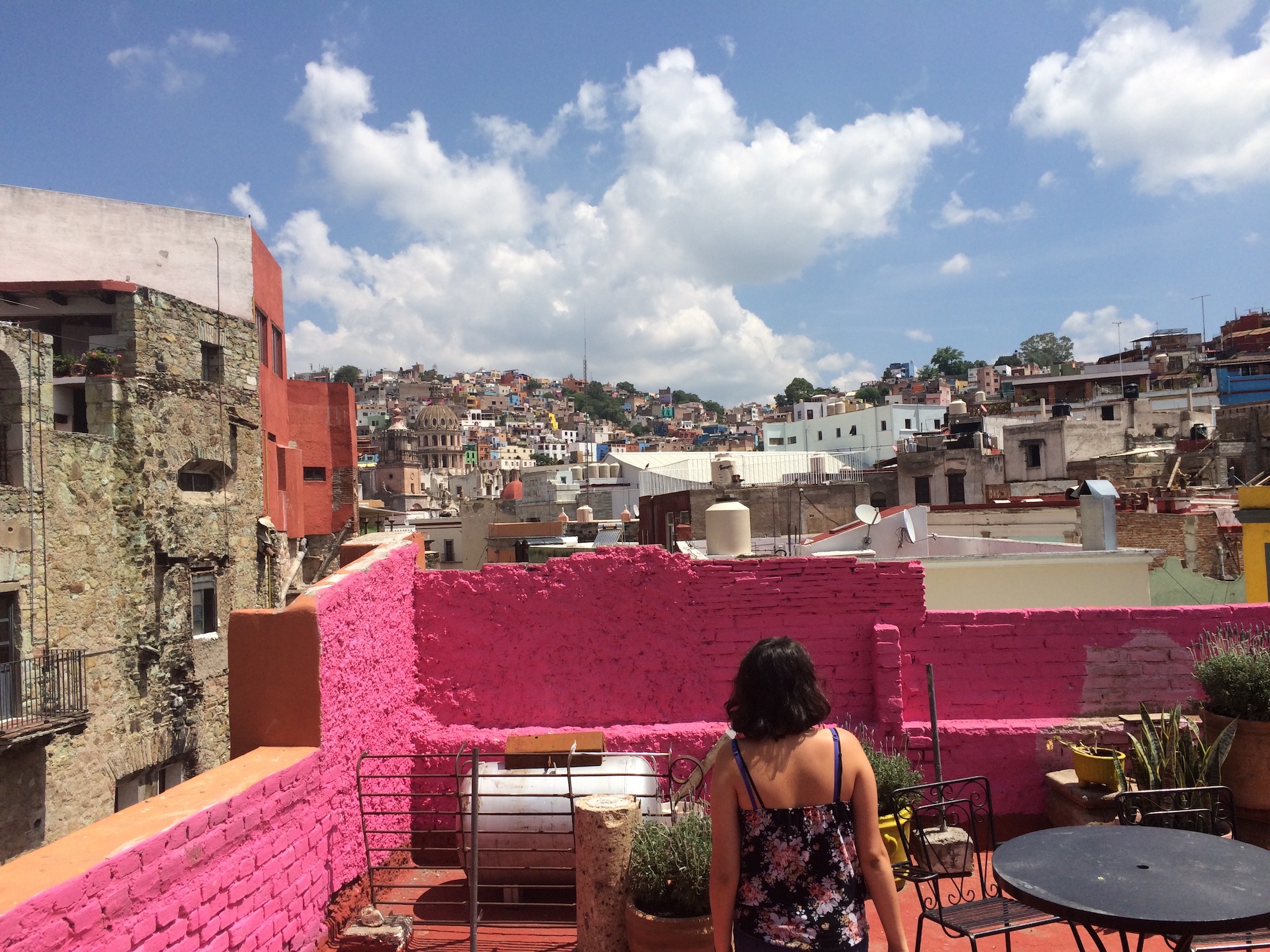 How to Fall in Love with Querétaro and Have Many Homes
Make friends with the locals. My first day here, I struck up a conversation with a muchacho playing his guitarra in the hostel. "¿Cuántos años llevas de tocar?" I asked. "How long have you been playing?" We started talking, musician to musician, and Ricardo told me about the music scene here in the city. But music isn't the only good conversation starter – you can start with where you're from. Chances are, they'll have questions about what your home is like, and comparing/contrasting daily life aquí y allá is always fun and can be a topic that lasts for hours of surprise and laughter.
Find your tertulio A tertulio is a gathering of friends over coffee, food, or drinks. It's a simple concept – sharing stories, jokes, and just being together with the people you care about. Of course, the people you share it with make the tertulio, but location is also key. Find a spot that speaks to you, whether it be a café, bar, or park, and get to know it, the staff, and the menu well. Be sure to explore other areas of the city, but find a home base that you can always count on.
Get a little lost. A few weekends ago, I made the mistake of buying the wrong return tickets for a trip away in the neighboring city of Guanajuato. After getting booted from the bus, myself and a friend found ourselves without a way home or a plan. However, we realized we had something better: an entire day and a gorgeous city to explore. We figured it out as we went, and ultimately, it was una bendición that I couldn't read military time.
Humbly become part of the family. Host families are eager to welcome students into their homes and integrate them into the family's daily activities. It's humbling to be so kindly welcomed into a stranger's home – to be served, feed, and taken care of in every respect. And it can be slightly intimidating to embrace a new routine, however, try to say "yes" whenever possible. When your mamá says, "¿Me acompañarías a la tienda?" say "yes" and walk to the store with her. When the family invites you to their father's brother's friend's birthday party, tag along. When they ask you to sing karoke at said party, grab the mic and sing along, even though you don't know the words. You won't regret it.
Follow these four steps and I can guarantee your experience in Querétaro, or any city you chose to visit, will be totalmente inolvidable. Completely unforgettable. Trust me.
How to Have Many Homes:
Talk often. You're not the only person whose had this experience of "coming back" and feeling incomplete. Any traveler can tell you that their heart has been separated into pieces that have been scattered across the world, left in every place they have ever loved. So, talk often. Share those stories that make you smile and cry and giggle.
Look at photos. Thanks to the wonderful world of technology, there is no reason for you to forget the faces, paisajes, nooks and crannies that you began to take for granted while you were away. Treasure the photos you have – they're tangible reminders, physical memories, of a time well spent.
Say "yes" to adventure. Las aventuras don't have to stop once you come back. While you may have spent a summer in glamourous, new places, there is beauty to be found even five minutes from home. Carry that "yes" attitude back with you and treat even an afternoon jaunt around your hometown as an opportunity to discover, learn, and grow.
Remember often. It's okay if you find it hard to be present. At the start, that's to be expected. The act of coming back – as good as it is to see loved ones and revisit haunts – does feel like a little loss. Don't force yourself to move on or forget. Rather, try to integrate the lessons you have learned and the love you have known into "real" life. If you can do that, the magic of the time you spent can't fade.
One way I have completed Step 4 has been through songwriting. You can hear the song I wrote and dedicated to the beautiful families and professors of the UAQ/OSU study abroad community here: https://www.youtube.com/watch?v=4WYn_2G23m4.