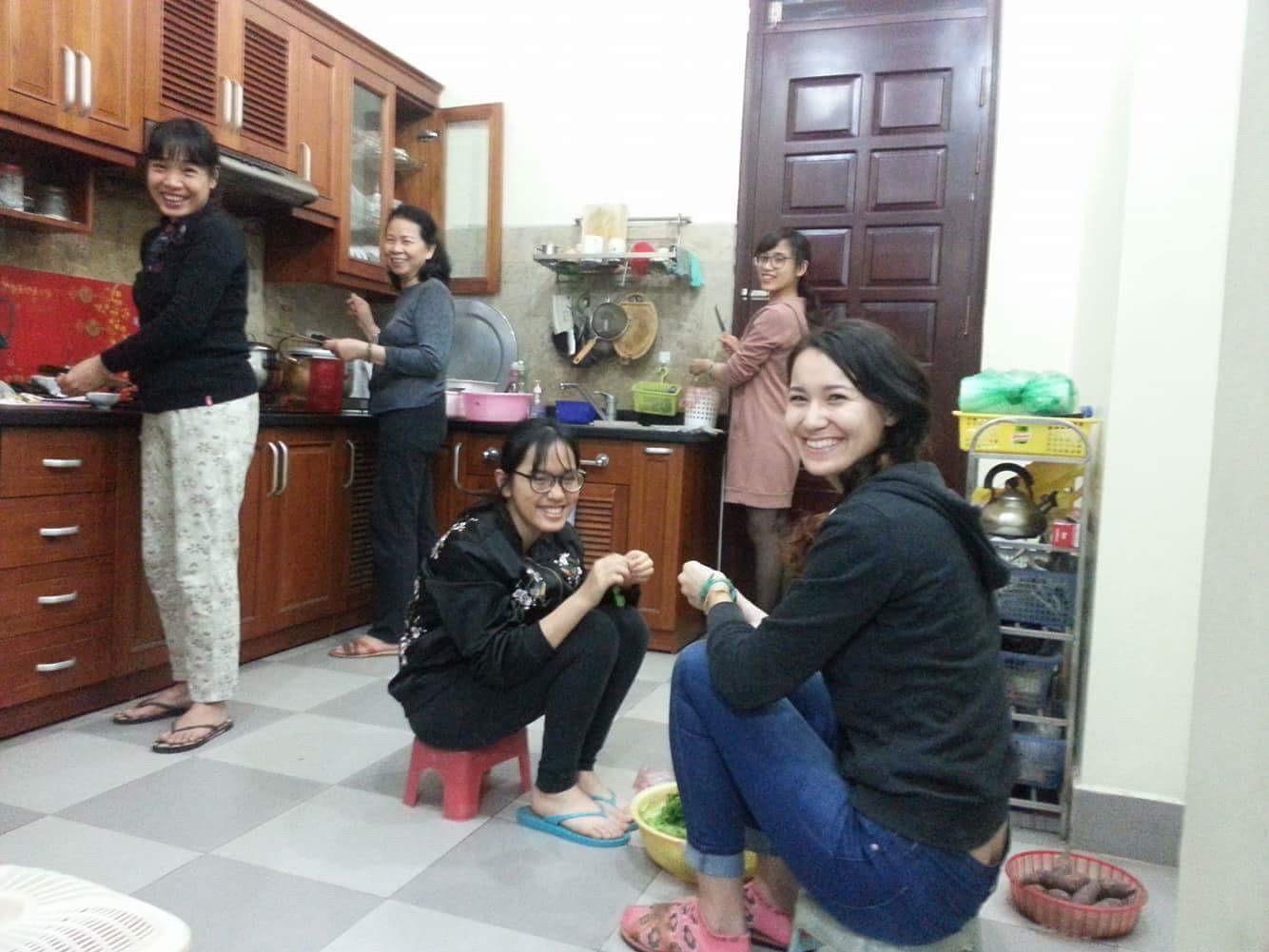 Cooking is an Art
My time seems to be slipping through my fingers here in Hanoi and I cannot believe I almost halfway through my time here.
I honestly was not sure what I would write about in this first blog, but when I sat down and started thinking about an experience or a cultural norm I have seen my mind drifted to food. Now, I am a total foodie, who loves to cook and spend a majority of my money on it. But when I thought about it more I realized that food is everything. Food represents the culture of a place – the ingredients from the area, the way it is eaten, and the way it is prepared. Food is Vietnam.
My first week here my host mom and sister took me to their local market to grocery shop for dinner and I was amazed by the depth of the market. Dozens of old and young people squatting behind their styrofoam and plastic boxes filled to the brim with all kinds of leafy greens, bright fruits, chunks of meat, fresh fish still swimming in the little pools. I watched in amazement as my host mom bartered with the vendors to purchase various foods for pennies. I wish I could barter like that…
Every Sunday my host family drives to the outskirts of Hanoi to the grandparents' villa and we make lunch with the grandma. She told me each time I come over we will make a new Vietnamese dish, so that I can take the recipes home and make them for my family. My entire host family has adopted me, so they call me one of their own children.
As of today I have learned how to make Pho Cuon, Hot pot, Vietnamese Spring rolls, homemade Pho, and how to properly cut a pineapple.
The recipes may seem trivial and something I could have found on the internet, but my host family showed me the whole process – buying the ingredients at the local market, how to check for the freshness and how to barter for the best deal. How to prepare the ingredients before you cook them, how to cook and make the dishes, and finally enjoying the meals together as a family.  I cherish those weekends I get to be part of their family and learn new dishes, even if all I do is help roll the beef and herbs into the rice noodles to make pho cuon.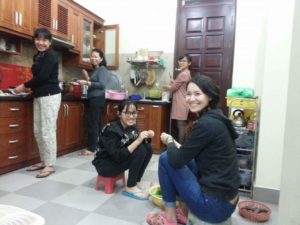 Now that I live on my own I have to either cook for myself or go out and eat – I prefer to eat at home because it is cheaper and I get to try different dishes. I bought a Vietnamese cookbook from a bookstore I came across during a walk and use it to plan most of my meals for the week. I have found a local market located just down my street, and have become regular customer for a few vendors that recognize me and give me a good deal despite not being able to communicate verbally with them. Hand gestures and lots of smiles are usually how I get through bartering over the price of items.
When I do go out for food I have found few places have menus in English and there was one time I looked around and pointed at someone else's dish with a smile and that is how I ordered my meal – still not sure what I ordered but it was delicious.
I have learned so much about Vietnam with the food alone. The Vietnamese are such kind and welcoming people. I may not be able to speak Vietnamese and the people I come across may not always be able to speak to English to me, but food is how we communicate. Food is the thread that stitches people together.