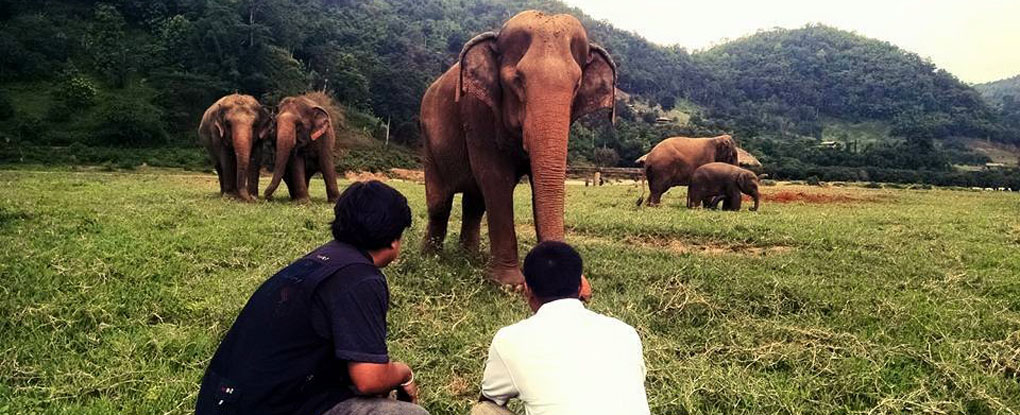 But Why? For The Elephants, That's Why
To summarize: Save Elephant Foundation's biggest project is Elephant Nature Park. In Asia, especially in Thailand, elephants are used to make money. Whether it is in the logging industry, street begging, tourist treks, circuses, or elephant shows – elephants are exploited for human consumption and profit. This comes within a culture that admires, respects, and even worships this majestic animal. So, Save Elephant Foundation rescues these elephants from these terrible situations, attempts to rehabilitate them, with hopes that they are well enough to be released back into the wild. They are allowed to be visited (just visited, fed, and bathed – not ridden or prodded) at Elephant Nature Park and Save Elephant Foundation's other sites in order to raise funds in order to make the entire process self-sustaining.
The only reason I was able to partake in this amazing experience is due to a scholarship from the Freeman Foundation – who granted me $6,000. I am forever grateful to the Freeman family for helping me to finally pursue my dream of international travel after 28 years.
So as far as coming – was I nervous? No, not at all really. Mostly just excited. Part of it was, I had months leading up to research and think about it so there were no logistical worries. Partnering with IE3 also made things like receiving credit, and communication with Save Elephant Foundation (SEF) very easy. Also – I've been planning a trip abroad for a decade, so that anticipation earned me a sort of false confidence that I'm happy to have.
I departed Oregon on Thursday, June 18th. I chose a single-layover (in Tokyo) flight from PDX-BKK (Portland, OR – Bangkok, Thailand) and then later booked a short flight to BKK-CNX (Chiang Mai, Thailand.) I was originally going to take the night train to Chiang Mai from Bangkok, but wanted to assure I would arrive in Chiang Mai in time to get my apartment and meet my coworkers prior to the work week. I arrived in Bangkok over a full day after I left due to flying against the space-time continuum (I mean, across time zones) and crashed at a lovely $20 hotel.
The 45-minute flight to Chiang Mai was exhilarating. Flying through the northern mountains of Thailand was so serene and beautiful – but it was the anticipation of finding out my living situation for the next quarter-year that incited the greatest emotion within me.
When I finished my complimentary sausages, foamy dessert treat, and fermented veggies, I stepped off the plane with my carry-on only the confusion set in. I was to meet my work-advisor and long-time SEF staff member Patty at the airport. Fortunately, I had picked up a SIM card in the BKK airport and had Thai cell service. I was able to locate Patty along with several other young staff members (who I later learned were working at Elephant Nature Park through a scholarship program – their work in was in exchange for a paid education – which is pretty common when it comes to Save Elephant Foundation and Elephant Nature Park.)
The ride to my apartment was dizzying and confusing. I had no idea where I was, lost all orientation, and was overstimulated by the amount of life on the streets. It was Saturday evening at this point, and the markets were in full-swing. There was a food cart every 5 feet – this was a Portlanders dream. Portland definitely takes the cake when it comes to the US food cart scene, but Chiang Mai, especially on a Saturday night, makes Portland look like a preschool food cart incubator project.
After arriving to my modest guest-house apartment, I was shown to my room by Patty and the scholarship workers and quickly abandoned. Then it set in: wow, I am actually in a different country. A different culture. Alone.
I then had two options: sit alone in my apartment and freak out or go explore my new city. I chose option number two.
As I said, it was Saturday night and the markets were alive. My plan was to just randomly walk around and get a sense of the size and vibe of Chiang Mai. Well, it took about 3 minutes of walking to wander into a gigantic food paradise (which I later learned is the daily South Gate Market). I was overwhelmed by the smells and freshness of the food – to the point where I simply couldn't choose. I just walked and sniffed and took it all in. I then wandered a bit more around the moat (in a perfect square, surrounds the entire Old City of Chiang Mai).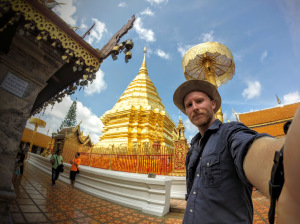 Oddly enough, I had an acquaintance from the States who was going to be in town with several other friends. They were exploring all of Southeast Asia, and we somehow overlapped perfectly. I met them at Taste From Heaven vegetarian restaurant.  The first meal I ever ordered in Thailand was Northern Style Thai Curry with Rice. The next day, at a Thai cooking class, I learned the difference of North style Thai food – which pretty much comes down to more simplistic and less ingredients.  The obvious thing to do post-meal on your first day in Chiang Mai is to attend the Night Bazaar market.
I think by doing all of these activities so quickly, rather than sitting in my room crying, I was able to quickly acclimate to the culture and vibe of Chiang Mai – which once again lent me a false confidence in my new city.
After one more day of exploring and a cooking class, it was off to my first day of work! My first week of work would be spent traveling to Save Elephant Foundation's main project: Elephant Nature Park.
From June 22 – June 28, 2015 I would be volunteering along with 40 other volunteers to see what Elephant Nature Park is all about and why it has become one of the most well-respected organization within Thailand and beyond. 
Elephant Nature Park is set in a pristine rural valley in the Kuet Chang, Mae Taeng District of Chiang Mai and consisting of over 250 acres of land. Started in 1996, the park is home to over 400 dogs, 75 buffalo, 150 cats, horses, pigs, a monkey and a cow (as well as several human beings.)
People are able to visit and volunteer at the park in several different ways:
Day trips
Overnight trips
Week-long volunteer trips
I may be biased, but I see no better way to experience the park than through volunteering. It was great waking up with the sun in order to get ready to shovel several tons of elephant poo – all while the precious day and overnight visitors happily bathed the elephants in the sun or joyfully fed them watermelons.
I showed up at the office with poorly-packed backpack in tow. After 3 days of traveling entirely across the globe and acclimating to my new town – I was oddly not the least bit jetlagged or tired.
At the office, I was handed 5 volunteer shirts for my weeklong stay (accidentally grabbed Large shirts – I am XXL in Thailand, despite wearing Medium or Large in the States). I then awkwardly sat around until my number was called to board a van with other paying volunteers.
The first person I chatted with on the van was from Austria and was in the midst of an extended travel across SE Asia, Australia, New Zealand and beyond. Well, it seemed original at the time, but as I met more and more people – I realized many of the week long volunteers had no end date or destination to their travels and were simply wandering the globe searching for nothing, themselves, friends – whatever. They were just roaming.
That was both inspiring and confusing. As a graduate student, I have gotten to such a structured place within my own life that doing something the least bit unstructured without a finite timeline or plan shocks, awes, and blows my mind. After a beautiful drive through the rural landscape of Thailand and after passing many small villages and competing elephant trekking camps, we arrived at the world's most amazing place: Elephant Nature Park.
One of the first people I met, my roommate, was from Minnesota! We had an instant connection due to our Midwest roots in the United States (I'm from Wisconsin). It's funny how you can travel on the complete other side of the earth and still meet people who grew up just across the river. He has that classic Midwest charm and politeness, so it was a real treat having him as my roommate.
With people from all across the globe, and many people having been traveling for months  there was never any shortage of things to discuss. It takes some time getting used to walking around and being surrounded by over 50 elephants – that reality probably didn't sink in until about day 4.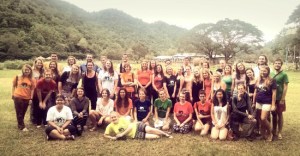 So what did we do for the rest of the week!? A lot. We would wake up and eat a slightly-Americanized breakfast and then be off to our first job. Jobs include:
Washing watermelons for elephants
Cleaning up elephant poop
Sorting bananas
Unloading trucks full of corn and grass
Travelling an hour to a farm to cut corn or grass – and then travel back on the same truck that had just been stacked 15 feet high full of said product
Visiting local village schools to play and help the kids learn tourism trades such as jewelry making, barista-ing, foot massage, and travel-booking
Cleaning up the park and making it beautiful
Walking around with the elephants – getting to know them on a more personal level
Tubing down the river
Also…the food. Oh…the food. Served buffet style for lunch and dinner – all you can eat Thai food. I never thought I would be lucky enough to experience that concept. I left the park a fatter, yet happier, person without a doubt.
But not only was I fat, I was enriched. With knowledge, friendship, compassion, and a true sense of why I would be doing the work I would be doing for the elephants for the next 3 months. I was 8,104 miles from my place of birth – but why?
For the elephants, that's why.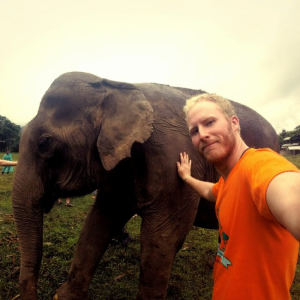 Since my adventure at the park – I have been hard at work in the office. I am the sole native English speaker working full time at the Foundation – a trait that can be very handy when dealing with the incoming volunteers (who are 99.9% English speakers).
I have also been hard at work with the media team. The park has a YouTube channel called ElephantNews and we have already produced five videos in my seven days of collaborating with them. In fact, today we drove out to the park to collect more footage – which involved manning a GoPro-bearing-drone for the first time in my life.
So far so good! I love my coworkers, I love my city, and I love the work. I really think this entire experience will prepare me for anything in life and even if my future career in public administration or nonprofit management doesn't directly deal with elephants or wildlife – the skills I am gaining will put me at the front of the pack.