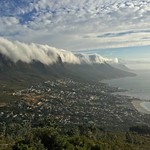 This is the ideal opportunity for journalism students, communications students, and individuals with an interest in writing and/or publishing. Interns will gain experience working within a foreign media organization, while producing work that will help them develop their professional portfolio. South Africa is home to a very active and outspoken media that takes its role as the "fourth estate" quite seriously. During Apartheid, the government routinely censored media content if it contained any sympathies towards the anti-Apartheid movement. Today, freedom of press is alive and well in South Africa!
Cultural Engagement: This internship program includes weekly cultural workshops that allow you to learn more about South Africa culture.
Placement: The Cape Town Journalism Virtual Internship is an individualized placement where you are placed with an internship site based on your skills and interests, the needs of the worksite, and position availability.
INTERNSHIP START DATES:
FALL: September-November
WINTER: January-February
SPRING: March-May
SUMMER: June-August
DURATION OF INTERNSHIP:
Flexible. Interns earn between 4-10 credits by working 120-300 hours over the course 4-12 weeks per term.