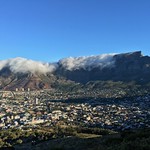 South Africa is home to one of the world's most liberal constitutions and at the very heart-and-soul of this nation's new Constitution is the defense of every individual's basic human rights. Apartheid left deep cultural scars in South Africa and the new government is still working to purge society of prejudice, xenophobia, gender inequality, poverty, and racism. Cape Town is home to the South African Parliament and as a result, there are many wonderful NGOs and government organizations based in and around the city that promote the causes of social justice and human rights.
Cultural Engagement: This internship program includes weekly cultural workshops that allow you to learn more about South African culture.
Placement: The Cape Town Business, Marketing and Graphic Design Virtual Internship is an individualized placement where you are placed with an internship site based on your skills and interests, the needs of the worksite, and position availability.
INTERNSHIP START DATES:
FALL: September-November
WINTER: January-February
SPRING: March-May
SUMMER: June-August
DURATION OF INTERNSHIP:
Flexible. Interns earn between 4-10 credits by working 120-300 hours over the course 4-12 weeks per term.