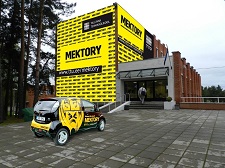 Be a business start-up and innovation advisor in Estonia at one of the most prestigious technical universities in the Baltic Region!
Tallinn University of Technology (TTU), the only technological university in Estonia, is the flagship of Estonian engineering and technology education. Here the synergy between different fields (technological, natural, exact, economic and health sciences) creates innovation and new ideas. Tallinn is a modern city, the capital of Estonia, with a burgeoning business and start-up community.  At the center of it all sits TTU and the Mektory.
The mission of Tallinn University of Technology is to be a promoter of science, technology and innovation and a leading provider of engineering and economic education in Estonia.  TTU is the only campus-type university in the Baltic countries and one of the most compact university campuses in Europe. The TTU Mektory works with companies, students and university faculty, with schoolchildren, and start-up companies. The Mektory values internationalization and diversity, because these days, success is only guaranteed by combining different cultures, working habits, ideas and interesting solutions.  Bring your knowledge and experience of business innovation to Tallinn to help local companies move their ideas forward, and learn all about starting your own business.