Although I knew this moment was unavoidable, it is still hard to believe my time in South Africa has come and gone. As I begin to transition back into my normal routine of work and school I can't help but feel like I'm missing a part of myself, a part of my heart that will always be tied to Cape Town. Although reintegrating into life as I knew it before my trip has proven more difficult than anticipated, I have found great comfort in sharing my experiences with family and friends
In addition to a slightly shorter bucket list and a rapidly fading tan, South Africa gave me the gift of perspective and opportunity. I found the idea of limited time in such an amazing place to be extremely motivating. This mindset gave me no option but to leap at any and every opportunity thrown my way and allowed me to do things I didn't think I could do, like embracing a new culture and opening up to complete strangers who I now consider some of my closest friends. It truly was an empowering feeling and I plan on maintaining my new found mentality.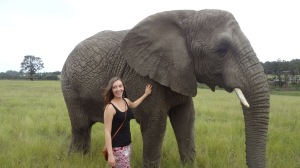 I think it is important to also mention, along with all of the adventures, sightseeing, and soul searching, a huge part of this trip was focused on my education and career path. While working at my internship site and shadowing the dietitian at Etafeni, I saw first hand what community nutrition entails. Although I loved my site and found the work extremely valuable, I began to contemplate my professional focus. However, after meeting with private dietitian in the area, my worries were eased. She explained that as long as my career goals aligned with my personal passions, I was on the right track. The insight gained from the professionals I interacted with in Cape Town and at my internship site had a tremendous impact on not only my professional goals but on my entire approach to pursuing them. I want to thank Cape Town, the people, experiences, and challenges, for opening my eyes not only to the world around me, but to the passion and potential within myself.